Todd's '97 Jeep Wrangler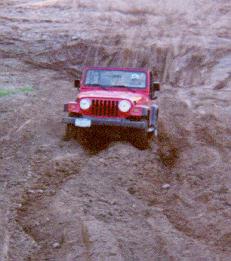 Here I am trying to climb up a sand hill. Note the silly grin on my face as I try spinning the street tires on my way to the top. Click here to find out more about what happened when I first took this thing off-road. Or, click here to see pictures and articles from my trip to Camp Jeep in August 1997.
Various statistics
I bought my new Wrangler on May 16, 1996, after trading in a Chevrolet Beretta that had an expensive coolant leak problem that two dealerships couldn't fix. My Wrangler is red, like in the picture, and has the four-cylinder 2.5 liter engine with a manual transmission. (That was a learning experience.) The pictures are with the stock tires, but I've upgraded them (see below).

Since I bought the Jeep, I've added the following to it:
A Mopar locking center console
Another Mopar locking center console (after some kids pried open and broke the lock when it was parked in my apartment garage -- click here for details)
Front and rear tow hooks
Seat covers from Off-Road Unlimited
BF Goodrich All-Terrain tires, size LT235/75R15 mounted on the five-spoke 7 inch wheels
A receiver hitch from Four Wheel Drive Hardware (which I plan to use with a clevis adapter, so I can get around the rear tow hook problem)
A Saris hitch-mounted bike rack
A replacement rear bumper. (Here's a tip: Don't mount tow hooks to the rear bumper. It bends the mounting brackets.)

What's a TJ?
TJ stands for, "Todd's Jeep." Actually, TJ is Chrysler's body code for the new Wrangler. The YJ was the '87-'95 Wrangler (the one with the square headlights), while the CJ was the classic Jeep with round headlights.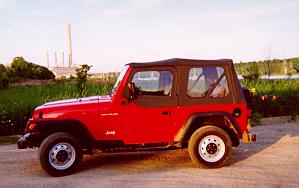 Here's my Jeep near the Black Dog power plant. Yay, stacks.

Why a Wrangler?
My father asked me, "Why in the hell would you want to buy a Jeep?" (He thought I should have bought a Saturn.) I bought my Wrangler for a few reasons:
I always had a bike rack mounted on the trunk of my Beretta so I could transport my mountain bike from place to place. I could never get into the trunk when the rack was on it, though.

Here's one mud-loving trail-stomping vehicle mounted on the back of another mud-loving trail-stomping vehicle. (Note: Since taking this picture, I bought a new bike -- it's a Specialized Stumpjumper M2 Comp. But that's another story.)

I read magazine articles and articles on Usenet that said that the new Wrangler rides much better on the road, yet is even more capable off-road than the previous model. I've found this to be true: the road riding is smooth enough so it won't knock my kidneys out of place. As far as off-road riding goes, it handles very well on the trails (at least as far as a novice like myself can tell). Here's what happened on my first real off-road adventure with a four-wheeling club that I've since left.
What can I say? I've always had a soft spot in my heart for Wranglers, and after test-driving one I practically fell in love with it.

More Stuff
Here's the '97 Jeep Wrangler Frequently Asked List, which I put together to educate other new Jeep owners and prospective owners.

Disclaimer: Jeep's lawyers will come after me if I forget to mention that Jeep is a trademark of Chrysler Corporation.

Since October 10, 1996,
curious souls have looked at this page. Click here to contact me.
And, if you're curious to see if I ever update this page, click here for the modification log.



Join The Jeep Webring