Todd's Trip to Camp Jeep, 1997
Todd Murray - Click here to contact me.
(Warning: This page is rather graphics-intensive and will take hours to load. The pictures are 300KB total. I have a T-3 line to my desk, so it doesn't bother me.)
Click here to go directly to my notes from the engineering roundtable, or here to go directly to the notes from the accessories session (including some good info on lift kits).
I've spent plenty of time four-wheeling in the woods of Wisconsin and mountain biking around Minneapolis-St. Paul, but who wouldn't jump at the chance to do the same things in the mountains of Colorado? So, late last July I loaded up the Jeep with plenty of gear, threw my mountain bike on back, and headed for Camp Jeep near Leadville, Colorado.
Friday
My first observation was that the town of Vail seems to have more trendy shops and boutiques than the Mall of America, but not indoors. (And, they don't have the indoor roller coaster.) Despite that, I started out Friday morning on the Mill Creek-Benchmark trail. It's rated as a blue trail, on a scale of green, blue, black, and double black -- kind of like ski runs. This trail turned out to be a fairly easy one, which would be a good trail for someone who hasn't been four-wheeling before. Even though it was fairly easy, I still enjoyed it, mostly because of the incredible views of the Gore mountain range and the wildflowers in the area.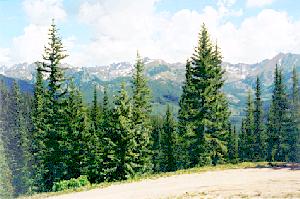 Here's a view of the Gore Range as seen from the trail.
After passing through a muddy stretch, we got to the top and found the benchmark for which the trail is named. The cloths on the ground are apparently there so helicopters can find the site. The flags are there for no apparent reason.

| | |
| --- | --- |
| The object of our trailriding. | |
| | Don't get so close to the edge! You're scaring me! (I didn't realize I would be looking down on Interstate 70 when I drove in on it.) |
After that, I headed for the grounds of Camp Jeep and joined the crew of Dirt Camp for a guided mountain bike ride. They spent time doing lessons for people who have never ridden before, so I may have been wasting time (after all, I was the only rider with SPD's there), but it was nice to have them lead us to the singletrack. The fun part was that I was wearing a Dirt Camp jersey, so I had to explain to people that I wasn't a staff member.
Saturday
Saturday's trail was more challenging: a trail named Iron Mike Mine, which started south of Leadville and climbed up to an old mine run by someone named Iron Mike. (He's no longer with us, but I was a bit worried that Mike Tyson was up there waiting to bite my ear off.) It's rated black, which was a good match for someone with previous four-wheeling experience and better than stock tires. This trail had two creek crossings and a set of rocky steps after the second creek crossing.

Here I am crossing the first creek. Terry Howe, the editor from off-road.com's Jeep Tech mailing list watches to make sure I don't drown.
A blue TJ finds its way up the rocky step section of the trail before me.
Here I am crossing the second creek. I should have gotten a picture of myself climbing the steps; I made it look easy.
You can't see meadows like this without a Jeep.
Here's our happy band of adventurers at the end of the trail, where snow made it impassable. (Yes, in August.)
After the trailride, I headed back to Camp Jeep and weaseled my way into a technical session at the last minute. Here's a quick summary of what they had to say, as well as what I asked. (See, I'm taking care of the readers of the TJ FAQ.) After that, it was time to see the concerts: The Fornicators (really! I think that was their name, if I heard it correctly) opened up for Roseanne Cash. The Fornicators were a fun cover band, while Roseanne Cash spent a lot of time singing sensitive songs and complaining about the lack of oxygen.
Sunday
After a free breakfast, I hit the mountain bike trails and explored the singletrack some more. Then, I headed back to camp for an accessories session. (Wanna read about it?) The session had a lot of good information, although they were kind of biased toward Mopar accessories. Then again, I'd rather buy a Mopar wheel that won't break instead of a cheap aftermarket wheel that fails testing (although I brought up the easily vandalized center console).

After that, it was time to get on the bus for the whitewater rafting trip down the Arkansas River, featuring Class III rapids (on a scale of Class I to Class VI, where Class VI is unrunnable places like Niagara Falls). Despite images of the "Land of the Lost" show that came to mind ("Marshall, Will and Holly, on a routine expedition, met the greatest earthquake ever known..."), we had a safe and enjoyable trip. At one point, we went over a rock wrong and three people fell out, but we got them back in thanks to the safety lesson.

| | |
| --- | --- |
| | Here's an image from the "Pinball" section of the river. |
| ...and our capable guide, a man named "Mongo". Or was that an alias? | |
| | Believe it or not, there were cows grazing along the side of the river. (Just these three, anyway.) |
| The D&RGW Railroad figured that the river was an easy place to put a railroad track, which is still in use today. | |
Monday
Camp Jeep closed up shop on Sunday afternoon, so I figured I'd stay in Vali an extra day and indulge my mountain biking habit. The nice thing about Vail is that they'll let you ride up the gondola or chairlift with your mountain bike, so you just have to pedal downhill. The disadvantage is that you have to pay $19 for the privilege. (But I'm not an uphiller, so I paid.) Here are a few pictures from that trip.

| | |
| --- | --- |
| | Here's the start of a fun downhill singletrack named "Crazy Kangaroo", featuring an incredible view of the Gore Range. |
| ...and here's a more difficult singletrack, "Bad Simba". I think the name comes from the Lionshead area of Vail, where everything has a lion-related name. "Lion Down" stretched this concept a bit, but that was also a fun trail. | |
| | If you look carefully, you can see the log bridge in the center of the picture. If you look not-so-carefully, you'll see my bike on the right. |
The only problem is that some thunderstorms rolled in around mid-afternoon, so they wouldn't let people go back up the mountain until the storms passed.

Anyway, I had a lot of fun at Camp Jeep. It was fun being able to meet other Jeep owners, some of whom said they read my FAQ and enjoyed it. It was also nice to be able to take my Jeep on trails that reached an actual destination, not just a trail built in the forest for the purpose of breaking 4x4's. I'll have to plan on going out there next year.

By the way, Jeep is a trademark of the Chrysler Corporation.
---
The obligatory links back to: