Todd's Jeep Wrangler Security Problems
Click here for:
The story:
I hate to admit this, but I did something stupid: A few days after I bought my new Jeep, I backed out of my apartment garage's parking space and turned the wheel too quickly (the way I used to turn in my crappy Beretta). I ended up scraping the corner on the concrete post next to where I park. It's an understatement to say that I was pissed. Thankfully, the folks at Abra Auto Body in Eden Prairie did a great job fixing the dents and repainting it. Unfortunately, I had to pay the $250 insurance deductible and $80 for three days' car rental. (I rented a Dodge Neon, and I really missed my Jeep during that time.)
As if that wasn't bad enough, one night I parked in my apartment garage with the top down. I have a detachable faceplate CD player, and I figured nobody would try to steal it because it's inoperable without the faceplate. Well, someone (probably a few kids -- the misspent youth of Edina, MN) pried open the locked center console, breaking the console and twisting the lid. They also tried to pry the radio out of the dash with a screwdriver, breaking the mounting and marking up the dash in the process. They apparently gave up when they couldn't find the faceplate. Needless to say, I was furious and I was about to smash someone's head into a rock. I ended up buying a new center console ($70), a new radio mounting kit ($15), and a replacement part for the dash that they had marked up ($41). I was able to remount the CD player so it didn't bounce so much and skip all the time. (This was done by putting foam rubber under the mounting kit legs.)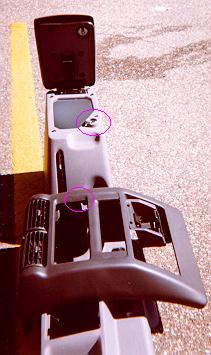 This is the console I had to replace, with the center piece of the dash that the vandals marked up. The broken lock and the marked up dash are circled.
To prevent this from happening again, I bought a car alarm ($300, on instant credit from Audio King). I figure it's less expensive than buying new side windows or door windows if someone decides to get creative with a utility knife.
Add up all of these numbers, and you'll see why I'm still running El-Wimpo P205/75R15 tires that are just slightly larger than my mountain bike tires. (Update as of August 1996: I now have bigger tires -- I cashed in my vacation time when I left my last job.)

The suggestions:
Anyway, here are a few suggestions I have for keeping your TJ (or YJ or CJ) theft-resistant. Of course, you may be defenseless against a professional thief, but this may help:
Never leave anything of value inside a soft-top Jeep. Never leave anything that even looks like it's valuable inside your Jeep.
Don't leave the center console locked, unless it's made out of thick pry-proof metal. A locked center console is an invitation for someone to pry it open to take a look. I figure the lock on the center console will work if I'm parked at Target or Cub Foods, where someone will see a thief trying to pry it open, but it won't work in the garage of an apartment complex at 3:00 A.M.
Various companies are making aftermarket security accessories for the '97 Wrangler now. Mopar (the Chrysler accessories division) offers a lockable trunk container called "Add-a-Trunk". (This was quoted as "Add-a-Truck" in a magazine article.) Companies such as Tuffy also make secure locking consoles and lockboxes. You could also buy (or make) a lockable metal glove box or another kind of lock box that mounts elsewhere on the vehicle.
If you get an aftermarket radio, get one with a detachable faceplate. The radio won't work without a faceplate. My faceplate would cost $200 to replace, and most reputable shops would check the serial number to see if it's stolen.
Consider a car alarm. Yeah, I know they're obnoxious and kind of expensive. On the other hand, replacement door windows for a soft top cost $255 each, and the rear quarter windows cost $86 each. You might as well let the thief know that even if he cuts the windows with a utility knife, he'll set off the alarm and wake everyone up. Get an alarm with a perimeter and/or motion sensor -- it's vital for a soft-top Jeep.
Ask your local police department about crime in your area, how to prevent car theft and breakins, and any other information they'll give you. It's better to ask now than to have to ask at the time you make your crime report.
Click here for more suggestions on Jeep security, from a Usenet thread about Jeeps and thieves
---
Back to Todd's Jeep

Back to the TJ FAQ