(Named as one of Bike Magazine's 15 best cities in North America for mountain biking!)
Copyright 1996-2004, Todd Murray - tam@visi.com.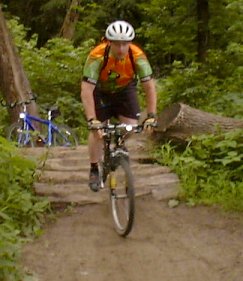 Here I am riding over a pile of logs on the Minnesota River Bottoms trail.

I used to be a road bike person and thought that most people who bought mountain bikes just bought them to show them off, instead of riding off the road. I never thought that I'd end up on a mountain bike. Now, as if urged by Darth Vader, I've joined the dark side.

In my case, my conversion to mountain biking took place innocently enough: I bought the book Minnesota Bike Atlas (which I recommend) at a local store. The back section has some mountain bike trails rated by difficulty. I tried the Tierney's Woods trail and the Fort Snelling South trail on my hybrid bike, and I liked them a lot. I enjoyed the whole experience of off-road biking and seeing interesting sights without having 8000 cars around. Then I went out to Lake Tahoe on vacation and biked on the Powerline, General Creek, McKinney-Rubicon, and Flume trails. I couldn't escape it -- I was hooked. So, I bought a Specialized Rockhopper FS mountain bike. Then, I upgraded to a Specialized Stumpjumper Comp. I'm now riding a Specialized Epic Marathon, with probably the most innovative full suspension system I've seen. (Okay, Specialized, pay up.)

Here are some mountain bike trails I've been on and that I can recommend:

More links are coming as soon as I actually get to those trails. (Yes, I know this is kind of an "under construction" disclaimer, but I'm not going to put in any trails that I haven't actually been on.)

Click here to get to more links about mountain biking.

Disclaimer: Mountain biking is more dangerous than biking around Lake Calhoun. Wear a helmet if you think you have anything worth protecting in there. Follow the IMBA rules of the trail . And remember: if you're scared, stay home.

Since the counter crashed on 2/16/98,
people have seen this page.
---
Fort Snelling South
This trail is good for beginners because most parts are fairly wide and flat. You get a good view of the river, as well as planes taking off and landing at the airport.

Getting there: There used to be an access to this trail from the Old Cedar Avenue Bridge in Bloomington, but the bridge has since been closed.

In Eagan, take Highway 13 east past Highway 77 and turn left (north) on Nicols Road. Follow it until you see the parking lot for the boat ramp. (Note: This access point requires a State Parks daily permit or yearly sticker. They aren't sold on site -- you have to go to the main entrance of Fort Snelling State Park at Highway 5 and Post Road.) Follow the biking/hiking trail out of the woods, which becomes a doubletrack trail and then returns to the riverside. The trail continues for about 7.5 miles up to a short distance past the Mendota Bridge.

I believe there is also an access point from behind the Sibley House Historic Site in Mendota, and there is a parking lot along Highway 13.

Difficulty: Beginner; about 2/3 doubletrack and 1/3 singletrack. Mostly flat terrain.

Pluses: A good beginner route, although it wouldn't completely bore more experienced riders. I like to stop directly under the airport's flight paths and watch planes come in just a few hundred feet overhead, like the scene in Wayne's World.

Minuses: Bring mosquito repellent (this goes for any area along the Minnesota River). You'll get bitten anyway, but I told you so. There is often standing water on the trail draining from the railroad grade near the Mendota Bridge.
---
Minnesota River Bottoms Trail
This is a nice singletrack trail winding through the forest in Bloomington along the Minnesota River. The western half (past Highway 35W) is mostly flat, while the eastern section has a few more hills. There are a few branches across the trail, along with some other obstacles. To get across Nine Mile Creek (about a mile west of 35W), there is a raft held by ropes crossing the creek. You can get across by pulling the rope attached to the raft. It's a pretty wild experience.

Getting there: There are several locations to get onto the trail. The western end is at the old Bloomington Ferry Bridge on the north side of the river. There is now a parking lot at the end of the bridge. You can also get onto the trail from the southern end of Normandale Boulevard (by the former MN&S railroad swing bridge)*, the southern end of Lyndale Avenue, or from Indian Mounds Elementary School. (This is as good an entrance as any. Take Old Shakopee Road/98th Street east from Highway 35W. Turn right on Columbus Ave., then left onto 99th St. to 11th Ave. S. Park near the school, then follow 11th Avenue south. The trail starts on the left.)

*My friend Todd would like it known that the swing bridge is still in operation, owned by the Twin Cities and Western Railroad, and serves grain elevators south of the river.

The eastern end of the trail starts at the end of the old Cedar Avenue Bridge (see the directions for Fort Snelling South, but take a right just before you get into the river and follow the singletrack.) The eastern section, between Cedar Avenue and Indian Mounds Elementary, is more tricky because it has several sand dunes and a few places where you need to duck under trees.

Difficulty: Intermediate; mostly singletrack in the forest with several jumps and a few obstacles. Can be muddy after a rain.

Pluses: This is a nice challenging trail with good views of the river. You should be able to see at least one deer in the forest.

Minuses: Bring mosquito repellent again. A few areas, especially west of the railroad bridge, are always muddy unless it hasn't rained for a month.

Special Note: The Minnesota Department of Natural Resources has proposed to pave this trail to match all of the other rails-to-trails projects around the state. If you think this is a dumb idea, as I do, then call the DNR or your elected officials to complain. Good singletrack can't be lost!

Links: City of Bloomington - Bloomington Briefing, Bloomington Parks & Recreation

I've posted property ownership maps of the Minnesota River Bottoms trail in Bloomington, mainly for some people who asked me for those maps at a meeting. Click here for access to those maps.
---
Terrace Oaks Park
Opens sometime between May 1 and May 15. Call (952)895-4500 for information.
This is one of the hot spots for mountain biking in the Twin Cities. This is a good, challenging singletrack trail in the middle of a forest with plenty of sharp, twisty curves, several hill climbs, and some wild descents. Unfortunately, it's closed from October 15 through May 1.
Getting there: Take Burnsville Parkway east from Highway 35W past County Road 11. The park is on your right. The mountain bike entrance is on Burnsville Parkway about 1/3 mile east of County Road 11. (Note that the west entrance is not open to mountain bikers.) There are signs that indicate where the trail is, along with maps.
Difficulty: Intermediate; lots of hill climbing and hill descents. There is also an expert loop midway through the trail.
Pluses: Lots of technical singletrack, and it's a nice thrilling ride. This is what mountain biking is all about.
Minuses: If you stumble onto any of the hiking trails by mistake, you'll get chewed out (and maybe even threatened with legal action) by a neighborhood HOHA representative. Most of it is well-signed and gated off, but the expert loop (Hebel Hollow) section has a junction where you can get lost because there's no sign there. (Just go to the right.)
Links: City of Burnsville Parks & Recreation (but no info about Terrace Oaks)
---
Lebanon Hills Park
The trails in Lebanon Hills Park have been almost completely redesigned and rerouted by members of MORC (Minnesota Off-Road Cyclists). Several years ago, this trail was mostly doubletrack going straight up and down the hills. Now, it's mostly very well-built singletrack that winds throughout forested areas, as well as the occasional open meadow.

Getting there: From Highway 77 or 35E, take Cliff Road east to Johnny Cake Ridge Road. (I want to know the story behind that street name.) Turn right (south) and continue about 1/2 mile to the park entrance.

Difficulty: Most of the trails count as intermediate difficulty. There is a beginner loop just south of the parking lot. There is also an expert loop located in the middle of the trail system, and a double-expert (XX) loop accessible from that. The expert loop features more technical terrain, some log crossings, and a few rock gardens. I don't think I'm quite ready for the XX loop yet.

Pluses: The redesigned trail system is a HUGE improvement from before. It offers a longer loop and more twisty technical stuff that I like.

Minuses: Although the trail design has eliminated most of the lung-busted climbing, there are still a fair number of hill climbs in there.

Links: Dakota County Parks - Lebanon Hills

---
Salem Hills/Harmon Park Reserve
The city of Inver Grove Heights partnered with MORC (Minnesota Off-Road Cyclists) to build a trail in a park that otherwise didn't have a lot going for it. The result is a trail system that winds around mostly through prairie areas but with a few wooded areas. It doesn't have a lot of technical obstacles or a huge aerobic workout, but it's a good trail if you want to just relax and get out and enjoy nature.
Getting there: From Interstate 494, exit on Highway 3 (South Robert Trail) and head south. Take a left at the first intersection, Upper 55th Avenue East. Continue down Upper 55th for a bit, and then turn right at Asher Avenue. The parking lot is at the top of the hill, by the water tower.
Difficulty: Beginner. Like I said, there's nothing real technical or aerobic there, though there are enough hills and turns to keep from being boring.
Pluses: The prairie scenery is an interesting change of pace from all the wooded sections. I think this might dry out better after it's been raining, but don't take my word for it. This might be a good place to take a newbie who's just getting into mountain biking.
Minuses: If you're looking for hardcore riding, this isn't the place for it.
---
Buck Hill Ski Area
Buck Hill has two main loops of gravel trails along with several shorter singletrack loops in the woods. The northern loop trail is easier and runs through a wooded area, while the southern loop is one long hill climb followed by a fun descent. NOTE: It appears that Buck Hill is now only open for riding certain days of the week, primarily for people training for the races.

Getting there: Go south on Highway 35W and take the exit on County Road 42 by Burnsville Center. After you exit the highway, follow the frontage road (which has a sign saying "Buck Hill Road") about 1 1/2 miles south.

Difficulty: The trails range from beginner through advanced, although you can expect to do a lot of climbing on the beginner trail.

Pluses: Lots of interesting terrain, particularly on the singletrack loops that branch off the main trail. I like the "Saidor" trail because it's a twisty and technical trip through the woods.

Minuses: Lots of hill climbing -- then again, it IS a ski area. No longer open for public riding other than for race practice sessions.

Links: Buck Hill
---
Murphy-Hanrehan Park Reserve
If you haven't been to Murphy-Hanrehan Park Reserve in a few years, you're in for a surprise. The old trail system used to go up and down a lot of steep hills, making it feel like a roller coaster ride, but also made it an erosion problem for the Three Rivers Park District. The district created an entirely new trail system, west of County Road 75, which is all singletrack and much more soundly designed. You don't get the lung-busting aerobic workout any more, but you can ride it all year. The trail system is mostly wooded but has some open fields, so you can work on that suntan.
Getting there: Take Highway 35W (or 35E) south to County Road 42 by Burnsville Center. Go west on 42 about two miles until you get to Burnsville Parkway, then turn left (south). Follow this road until it turns to the west. This turns into Hanrehan Lake Blvd. Turn left on County Road 75 and the park will be on your left after the turn.
Difficulty: Mostly intermediate, but there are a few advanced trail features.
Pluses: Much improved after the redesign.
Minuses: The long loop might be a bit too long if you get a mechanical problem or something and need to walk out. Plan ahead.
Links: Three Rivers Park District - Murphy-Hanrehan
---
Afton Alps Ski Area
Another ski area opens up to mountain biking, with good results. I wish I would have discovered this place earlier -- it has great views, all sorts of challenging terrain, and wildlife. (You should be able to see deer and maybe even a few wild turkeys on the trails.) A daily trail pass is $7.00.

Getting there: Take Highway 61 south from Highway 494 in Newport. At the first light, turn left, then turn left immediately onto the frontage road. Follow the signs to Bailey Road. Turn right onto Military Road, then drive east about 10 miles on Military Road/County Road 20 to the ski area. Or just follow the ski area signs.

Difficulty: Intermediate -- plenty of hills, including a few lung-busting climbs. The terrain isn't too technical, though. There are a few optional loops that give you more of a challenge. (I recommend the Deep Woods Express/Last Chance Gulch loop.)

Pluses: The scenery is great (go there just for the views of the St. Croix River valley), and the downhills are thrilling.

Minuses: Some of the surfaces have been repaired with loose gravel, so you really need to watch your speed on the switchbacks. Be careful that you don't spin out. I hope they figure out a few things about trail maintenance -- although they may have expected it to rain and settle things down.

Links: www.aftonalps.com
---
Louisville Swamp/Minnesota Valley State Trail
This trail is located fairly close to the Renaissance Festival grounds in Shakopee. It's another of a set of trails in the Minnesota Valley Recreation Area/Wildlife Refuge. It hasn't been "discovered" yet, so you can go here and get away from it all. Some trails might be flooded on a seasonal basis. (Note: There might be hunting allowed in this park at certain times of the year - call ahead first.)

Note that some sections of this park used to be open to mountain biking, but are now closed. The State Trail near the river is open to mountain biking. I haven't been there in a few years, so I'd consider rechecking these directions.

Getting there: Take Highway 169 south of Shakopee past Highway 41. Turn right at the next intersection, which is the same as the Renaissance Festival exit. Follow 145th Street to the signs that point you to Louisville Swamp.

Difficulty: Beginner -- fairly level, grassy dual-track trails.

Pluses: Has a few historic sites of interest, such as two abandoned farms.

Minuses: The trail following the Minnesota River is also used by horses (with predictable results -- can you bunnyhop horse droppings?) Watch out for Festies running loose, especially men in tights.

Links: Minnesota DNR - Minnesota Valley State Recreation Area

---
Elm Creek Park Reserve
I've avoided this trail because I thought it was too flat and easy. When I tried it out, I was surprised -- it's actually more interesting than I thought it would be, mainly because grass is harder to ride on than hard-packed trails. Still, this isn't too tough for a beginning mountain biker.

Getting there: Take County Road 81 north of Highway 694 through Brooklyn Park and into Osseo. Continue northwest about three miles to Territorial Road. Turn right at the park entrance and park at the main recreation area parking lot (not the Eastman Nature Center).

Difficulty: Beginner -- mostly flat, grassy cross-country ski trails.

Pluses: A surprisingly good aerobic workout (because of the undulating terrain), and enough mud to make things interesting.

Minuses: Probably the least technically challenging of all the trails mentioned on this page.

Links: Three Rivers Park District - Elm Creek

---
Battle Creek Regional Park
This park was apparently the site of a ski area once -- the west side of the park contains remains of an old ski jump. This park offers a wide variety of trails, from wide rolling double track ski trails to tight technical singletrack in the woods. There are a few steep downhills that will really challenge your concentration. The east side of the park is mostly cross-country ski trails, while the west side features more singletrack, some technical riding, and a few really steep hill climbs.
I was at a meeting to discuss the future of Battle Creek Regional Park and to discuss the concerns that land managers have about the park. Click here to read my notes from the meeting and to find out what you can do to keep mountain biking from being banned at Battle Creek.

Getting there: Take Interstate 94 east out of downtown St. Paul to the Ruth Street exit. Turn right (south), then turn left at Upper Afton Road. Turn right at Winthrop Street and look for the park entrance on the right.

Difficulty: Intermediate to advanced -- a lot of hill climbing and plenty of technical singletrack. Be extra careful on the singletrack downhills.

Pluses: A great variety of trails at one site, and at one point you can get a nice view of the Mississippi River valley.

Minuses: A lot of climbing and a lot of downhills -- there isn't a flat section anywhere there. The trails aren't marked and there's no map; this shouldn't be a big deal as long as you remember where you parked.

Links: Ramsey County Parks - Mountain Biking
---
Rum River Park
Note: I haven't personally been to this park. This information is from Mike Randall (mkrandall1@mmm.com), who wanted me to put this information up on my page because the park is in danger of being sold to developers. He writes:
Please take a look at the following article. (He's referring to an article in the Star Tribune.) One thing they fail to mention about Rum River park is that this park has FANTASTIC single-track. If you could run a link to the article, and urge people to ride the park before it's too late, I would appreciate it.
I'm working on getting some support to keep the self-serving, dollar-monger masquerading as a public servant from converting this mountain biking haven into his private money machine.
Please spread the word about this place. It makes me sick to think they want to build houses there. The least I can do is let the 'secret' out before it's too late.

The park has everything but hills. There are only a few steep rises, and one hill in the middle of a meadow. The single track is excellent, though. Plenty of fast, tight trails in the trees. Lots of technical stuff on the hillsides by the river. A bermed, motocross style section in the North end. Suitable for beginner to advanced. Newbies can stay on the cedar-chip/doubletrack trails, and make short singletrack forays when they feel ready. There's a secluded beach and a rope swing into the river for cooling off.
Getting there: The park is in the North end of the city of Anoka. Take Highway 169 North through Anoka, continue North on 47 (Ferry Street.) Or, take Highway 10 West to Ferry Street, then go North. Go past the Anoka County Fairgrounds. Ferry St. becomes St. Francis Blvd at the Fairgrounds. Turn Right on Industry Ave. (becomes Bunker Lake Blvd.) Go under the foot bridge, take the first right into Anoka High School. Turn right into a dirt parking lot. Park at the far end. Ride back to the foot bridge, and cross over it into the park.

Difficulty: I haven't been there, so I can't evaluate it.

Pluses: I haven't been there, so I can't evaluate it.

Minuses: Apparently, this park is being endangered by politicians and developers who feel jealous that neighboring suburbs have all of the expensive yuppie housing while Anoka has older, smaller houses. To these politicians, I say, "Boo hoo, snivel."

---
Minnehaha Falls to Fort Snelling
I'm not sure how this trail system got developed or what its history is, but I bet it's been used for a while because there are remnants of stairways and other improvements that were made in this area. (Maybe it used to be a WPA park or part of a training area for Fort Snelling.) Anyway, the trails in this area vary from mild doubletrack to rather advanced technical stuff with steep ascents and descents. There's a network of trails, not one continuous trail, so you'll probably have to explore a lot to get your bearings. Note that the trails around the falls themselves get a LOT of pedestrian traffic, so I wouldn't ride much north of 54th Street.

NOTE: There is now an off-leash dog park in this area. I'm not sure if the entire area is reserved for the dog park, or if there are still rideable areas. I haven't been there in some time to check it out.

Getting there: Take Hiawatha Avenue (Highway 55) north from the airport or south from downtown to 54th Street. Turn east on 54th Street and turn into Minnehaha Park. Park somewhere in the area. The off-road trails begin next to a power tower, and there's a paved trail to the other side that goes to Fort Snelling.

Difficulty: Beginner to intermediate: the main trails are doubletrack (with some wood chips on one main trail), while there are some more challenging singletrack loops that wind around. Some of the singletrack hills can get rather hairy.

Pluses: A wide range of terrain, and a surprisingly wild area for being part of Minneapolis.

Minuses: The trail system is fairly short, so you'll have to loop around a lot if you're looking for a long ride. Be careful of pedestrians -- the trail system isn't really promoted as a mountain bike area, and complaints about bikers could shut the whole thing down.
---
Theodore Wirth Park is a project co-sponsored by MOCA (Minneapolis Offroad Cycling Advocates) and the Minneapolis Park Board. The trail recently opened in the summer of 2005 as a demonstration project to determine if mountain bike trails can be built in the Minneapolis park system as a sustainable use. From what I've seen, they've not only succeeded, but they've built a killer trail system as well.

Getting there: The trail system starts at the northwest corner of Highway 55 and Theodore Wirth Parkway in Golden Valley. Cyclists are encouraged to park at Wirth Lake because there is limited parking at the golf course. To get to Wirth Lake, take Highway 55 east from Highway 100 to Theodore Wirth Parkway. Turn right (south) and go about 1/3 mile to Glenwood Avenue (County Road 40). Turn left and park in the parking lot along the left, near the lake. There is a paved trail along Wirth Parkway that provides access to the mountain bike trails.

There are two trailheads. The south loop, about a mile in length, starts at the northwest corner of 55 and Theodore Wirth Parkway. Look for the sign in a grove of trees. The north loop, about 2.8 miles long, starts off the west side of Wirth Parkway just north of the railroad bridge.

Difficulty: Intermediate to advanced. The hill climbing isn't bad, but there is a lot of tight twisty singletrack with some technical obstacles. A few of them, like rocks and tree branches, require careful bike handling (or walking around them if you're not up to it yet.)

Pluses: An excellent trail system that offers a lot of technical terrain and some really sweet riding. It's becoming one of my favorite trails in just one season.

Minuses: I want to have this trail in my back yard, so I can ride it every single day.


---
Hillside Park is a new mountain bike trail located in Elk River, built by Bob Mueller and the Blast mountain bike group. It's a winding singletrack trail in a forested area, and it's quite technical (almost diabolically so). You're either going uphill or downhill most of the time, and there are a lot of switchbacks and sharp turns. There are also several log crossings to add interest. The trail is 6.6 miles long, but you can make a shorter loop by returning to the road when you get to the power line (about 1.3 miles out and again at 4.3 miles).

Getting there: Take Highway 101 north from Rogers or Highway 10 north from Anoka to Highway 169 in Elk River. Go north on 169 until you get to the first stoplight, County Road 12. Turn right (east) and continue past the Wal-Mart and Home Depot stores. As of July, 2001, this road is under construction, and it turns to gravel with a sign saying "Local Traffic Only". Continue on the road anyway. The parking lot is on the right hand side. There currently aren't any signs for it, but there is an outhouse there and a gravel road going into the woods.

There is a $4 daily charge to ride the Hillside Park trail system. A season pass is also available for $25 per year.

Difficulty: Advanced -- the trail is quite technical, and it's either going uphill or downhill all the time. On the other hand, there aren't any long hill climbs.

Pluses: This is definitely a good trail to practice your technical skills, and it provides quite the workout.

Minuses: This trail could have included a few straight, level sections where a rider could catch his/her breath.

---
This park shares much of its trail system with a cross-country ski trail in the winter. The cross-country ski trails are relatively non-technical doubletrack, but the trailbuilders (a local bike shop? I'm not sure) have built some nice technical singletrack along this system. It's a hilly course, since the whole park is on a bluff above the city, but it's worth the drive.

Getting there: Take Highway 61 south from the Twin Cities past Hastings and into the city of Red Wing. Turn right on Plum Street (Highway 63), then turn left on 7th Street. The park will be on the right, about a half mile down the road. Climb Skyline Drive all the way to the top, where the road divides and there's a picnic area. You can see a nice view of downtown Red Wing from this spot, but this isn't the trailhead. To get to the trailhead, make a right when there's a fork in the pavement. The paved road goes to a lower parking lot. The trailhead is sort of behind the parking lot, almost adjacent to the road where you came in.

Difficulty: Advanced -- there is a lot of climbing involved. The singletrack is pretty technical, and there is a rather steep descent to the golf course.

Pluses: A lot of fun, twisty singletrack in the woods, and enough climbing to make it feel like a good workout.

Minuses: There aren't any trail maps posted, and finding your way around can be a bit tricky. The Minnesota Off-Road Cyclists review of the trail has a map and plenty of additional information.

---
Lake Rebecca Park Reserve
Three Rivers Park District has realized that there's a growing demand for mountain biking, so they've opened another trail up for mountain biking. This trail is a grassy turf trail that winds around wooded areas, the lake, and up and down several hills.

I asked someone at the grand opening if Three Rivers Park District plans to open more mountain bike trails, and he said it would be difficult because park reserves are supposed to leave 80% of the land area undeveloped.

Getting there: Take Highway 55 west to Rockford, about 20 miles west of the Twin Cities. Turn left on County Road 50 just before you cross the Crow River, then follow the signs to the park entrance. Or, take Highway 12 west to County Road 139 (just before you enter Delano), then turn right and go north to County Road 50. Follow the signs to the park entrance.

Difficulty: Intermediate -- the trail isn't technical at all, but the hill climbing can be rather difficult for a beginner.

Pluses: A good option for those who live in the north and west suburbs, and enough hill climbing to give you a good aerobic workout.

Minuses: The park district is apparently scared of singletrack, because the trail is wide and non-technical. It's also a fairly long drive for anyone who lives east of Plymouth, for example.

Links: Three Rivers Park District - Lake Rebecca
---
Milaca City Trails
The Blast Mountain Bike Event has built a trail network just outside the city of Milaca, and it's open to public use (outside of race times, of course). This is a rather long network of trails through varied terrain: some swamps, some singletrack along the Rum River, some wooded areas, and some more swamps.

Getting there: Take Highway 169 north to Milaca and exit on Highway 23. Turn left (west) and go into town, then make a right turn onto Central Avenue. Turn left at 2nd Street NE and follow it into a city park. There's a map of the trails somewhere there. To get to the trails, cross an old railroad bridge over the Rum River.

Difficulty: Intermediate to advanced. It's mostly flat, but it's a long series of trails and it may be hard to find your way around.

Pluses: A long network of trails with plenty of stuff for everyone.

Minuses: Some spots are pretty swampy.
---
OK, this trail isn't actually in the Twin Cities. It's actually closer to Duluth than anywhere else, but I've been riding here and it's fun.
This state park provides great views of the St. Louis River in a forested area just south of Duluth. The Munger Trail (a long paved bike trail) is at the north end of the park. The trail actually runs all the way from Hinckley to Duluth. The mountain bike trails are loops that come off the Munger Trail in the north end of the park. The Forbay Lake Trail, Greeley Trail, Triangle Trail, and Oak Trail are all open to mountain biking.

Getting there: Take I-35 north of the Twin Cities to Highway 210, the Carlton exit. (This is just short of a three-hour drive from the Twin Cities, so you might want to camp in the park or stay overnight in Duluth.) Go east on Highway 210 about four miles into the park. Parking requires a State Parks sticker.

Difficulty: The Forbay Lake Trail is flat and suitable for beginners. The other trails are moderately hilly and good for intermediate mountain bikers.

Pluses: Nice views of the St. Louis River valley and the rest of the park.

Minuses: I'd prefer longer trails, to some extent, but I managed to put together some long rides when trying to hit all these trails.

Links: Minnesota DNR - Jay Cooke State Park
---
Other Links
Some of the local bike shops include: